Last night after my call home to check in with Kathy, I shared with Steve an event she related. It appears that she lost power in the wee hours due to a raccoon that had gone up our power pole and incinerated itself on the transformer, causing the outage. He responded dryly, "Too bad you guys are vegetarian." Indeed.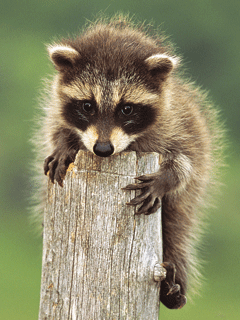 R.I.P., you wild and crazy guy.
There was some rain and wind in the morning, but it was over by ride-time and it turned out to be a pretty sunny day. We had breakfast at Moody's Diner, of course.
Like the previous two days, the course was pretty much non-stop up and down. When we got to the attractive town of Rockland (not to be confused with RockPORT, about five miles up the road) we were all hungry, so we cruised down and back along the main commercial street, settling on what might be best described as a food truck, without the truck, but with a handful of outdoor tables.
Our plan was to spend two nights in the Rockport area. We had reserved rooms at the Ledges on the Bay hotel but it turned out to be midway between the commercial areas of Rockland and Rockport, about two and a half miles of climbing from each, and definitely not a convenient walk to restaurants, stores, and pubs. Mitch easily convinced us that it would be much better if we stayed at the very nice Rockland Harbor Hotel at the edge of the commercial district of Rockland. Over the phone he negotiated an acceptable cancellation charge at Ledges, but we decided to ride up there to check it out before making a final decision. The view was great, but it would be very inconvenient to stay so far from town. In the end, Shannon at the Ledges told us that her manager had agreed to waive the cancellation charge because we were on bikes. How nice! If we are ever up there while traveling in a motorized vehicle, we will definitely be staying at Ledges by the Bay for the view and the staff, if nothing else.
Steve, Fred, and Seth at Ledges by the Bay in Rockport
We coasted back down the hill into Rockland, checked into the modern, clean, and comfortable Rockland Harbor Hotel, got cleaned up, and headed out to find dinner. We had a pretty good meal in Rockland on the outdoor deck of The Landings Restaurant & Lounge, entertained by seven elderly women practicing their steel drum numbers on the pier next door. (That situation has a very interesting back story.) After dinner we roamed around that part of town and discovered a little park featuring a display of old shipping lane buoys. Nobody paid much attention when Steve wandered off, that is until there was a sudden, deafening clang of the bell on the buoy we were standing beside. Looking up we saw Steve on the other side of the bell holding a sizable rock and grinning broadly. A few minutes later we realized that the buoy park was adjacent to Rockland's police station. Luckily nobody came out to take Steve into custody. I suspect it is a regular event for those working in the station. Our final stop before heading back to the hotel was the Rockland Harbor Brewing Company, which had a good selection of their own brews on tap.